Russian Visa for a family member
Russian Visa for a family member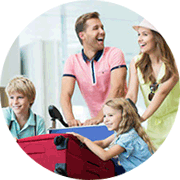 Family Member Visa is intended for close relatives who accompany a foreigner staying in Russia on a long-term business, work or other visa as well as on permanent Residence Permit.
If your close relatives (spouse, children under 18, disabled children aged 18 years and dependents) are traveling with you, they may apply for the Family Member Visa issued together with your visa on the basis of your Visa Invitation.
Processing time and cost of a Family Member visa depend on visa type of the "head of household" and on age of the accompanying family member (Consular and some other compulsory fees are not charged to minors). The time needed for issuing a visa to a family member is equal to the time needed for issuing a visa to the "head of household."
According to the Russian legislation, the complete term of stay in Russia on a business visa should not exceed 90 days within each 180 days.
The extension of a Family Member visa is possible only in exceptional cases (such as a serious illness) and only upon the request of your Visa Sponsor. We strongly recommend you to keep in mind the expiry date of your visa in order to avoid problems upon departure from Russia.

If you are experiencing difficulties with obtaining a Family Member visa, it may be easier to apply for another type of visa, for example for Tourist or Business visa.
Need help? Feel free to get online consultation from our experienced visa specialist, please choose the most convenient way to
contact us
.